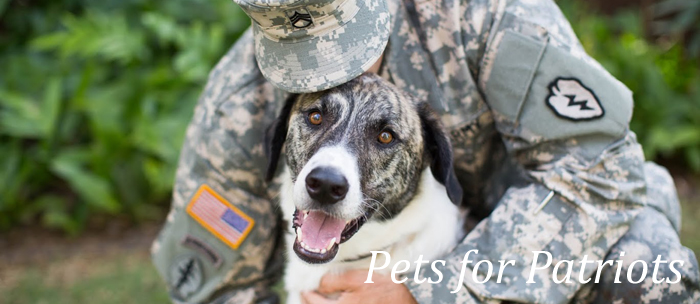 Military Discounts
Pets for Patriots
Our partnership with Pets for Patriots matches veterans with shelter pets whose wet nose, gentle paw or wagging tail changes lives for the better.
The Humane Society of Harford County Inc. (HSHC) and Pets for Patriots, Inc. have joined forces to give active, disabled and retired military service members and their families the gift of a pet's unconditional love, while providing dogs and cats with a second chance at life. Through this partnership, Pets for Patriots will connect our area's loyal service men and women to HSHC, and HSHC will introduce them to eligible homeless dogs and cats that are looking for permanent homes.
Individuals are eligible from any United States armed forces and at any stage of their careers – active, reserve, National Guard, retired or veteran. Eligible adoptions must meet one of the following criteria: dogs or cats two years and older, dogs 40-pounds or larger regardless of age, and special needs dogs and cats. HSHC will help any veteran in the Pets for Patriots program find a needs- and lifestyle-appropriate pet. Enrolling in the Pets for Patriots program is free, and in return, HSHC will provide a 20% adoption discount. In addition, several local veterinary clinics are offering discounts on veterinary services for approved Pets for Patriots members. Additional veterinarians are added to the program as they are approved.
"Our goal is to help our adoption partners re-home harder-to-place pets that still have years of love and life to give," says Beth Zimmerman, founder and executive director of Pets for Patriots. "Companion pets are known to provide real physical and emotional benefits to their guardians, including those suffering from post-combat stress, depression, isolation or physical disability. We're delighted to work with The Humane Society of Harford County to give these at-risk pets a second chance at life and, in so doing, to enhance the lives of veterans living in the community."
Service men and women interested in the program must first apply through Pets for Patriots and provide proof of their military service. Approval typically takes one or two business days, after which the military member can visit HSHC for assistance in choosing a new pet friend.
Visit www.petsforpatriots.org for more information, follow on Twitter at www.twitter.com/petsforpatriots and become a Facebook fan at www.facebook.com/petsforpatriots.
Pets for Vets Act of 2021
Are you a veteran of the military or know someone who is? The Pets For Vets Act of 2021, which was passed in the last legislative session, allows veterans to receive a 100% discount on pet adoption fees from any shelter in Maryland. All you need is to present valid ID that includes a notation of veteran status such as driver's license with veteran designation, a veteran ID card, or discharge paperwork.
HSHC thanks all active and retired military for their service, and we look forward to the honor of helping connect you with a loving furry friend . To learn more about how to adopt, please CLICK HERE.